News
Thursday, 17 May 2012 21:04
Here at VEG we are counting the sleeps until we host a rare Melbourne visit of Kay Baxter and Bob Corker in early June. This wonderful duo are so far ahead of the game it's not funny. They have been growing virtually all their food, including grains, for over 30 years, and if the supermarkets ran out of food they would probably not realise for some years! Kay Baxter is a household name in the NZ gardening and permaculture community as a legendary seedsaver and author of several popular books on food production, orchard design, and nutritious food. She speaks from the heart and years of experience about her journey into the art of producing and preparing nutrient-dense food in a way that can sustain our soils and bodies for generations to come. Bob Corker has been a permaculture designer for three decades, is the founding force behind the Kotare ecovillage project in NZ, and with Kay is a co-founder of NZ's Koanga Institute.

Dan & Amanda from VEG recently had the pleasure of working alongside Kay and Bob in NZ to present one of the two Permaculture Design Certificate courses the Koanga Institute runs each year. It was a wonderful experience living in the land of the Kotare community land trust, eating nutrient-dense well-balanced food, and being able to include practical design, fruit tree pruning, food forest planting and other workshops throughout the course.

During their visit Dan will take Bob on a tour of some of the permaculture properties in and out of Melbourne, and in addition to Bob and Kay each presenting a workshop/talk, we are thinking of hosting a casual evening of discussion for those interested in learning more about the Kotare project - contact us if you're interested.
News
Tuesday, 15 May 2012 09:33
Our wonderful warehouse manager and friend Carey runs a small farming operation in Melton 40 kms from Melbourne, where he produces eggs and crops for local groups in a CSA (Community Supported Agriculture) arrangement. The problem is, his single dam leaks! On the evening of May 27 2012 we're helping with a fundraiser in Yarraville to raise some money to help fix the dam and help Carey's chooks, crops and cows get through next summer without getting too thirsty. No booking required - just show up and we'll hope to see you there!

News
Sunday, 13 May 2012 13:43
In the new Brunswick-based VEG warehouse, we generate a fair few offcuts as we craft our vegie beds and chook houses. The offcuts are all untreated and ethically-sourced cypress macrocarpa which is a common firewood, burns hot and slow, but can throw sparks so is not recommended for open fireplaces. Also, it will require some further drying (a matter of days if inside, or months if outside). If you or a friend is after some firewood to keep cozy this winter, contact our warehouse manager Carey: This e-mail address is being protected from spambots. You need JavaScript enabled to view it . The deal is you come and load it into your car or trailer yourself at a prearranged time (usually work hours on Tuesdays and Thursdays). We're currently selling:
A loosely stacked market-crate full for $40 (photo to come).
An overfull stacked market-crate (122cm wide x 122cm long x 73cm high) full for $50. That's a lot of good firewood for $50

A sack full as per photo below for $6 (perfect for the camping trip!)

Here's a photo of it burning:
Media Appearances
Monday, 07 May 2012 13:35
Adam from VEG has an article about urban permaculture in this new Dutch publication Food for the City which also features one of our heroes, the famous Indian physicist, food activist and seed-saver Vandana Shiva and a lot of other great people.
Food for the City. A Future for the Metropolis
In 2050 nine billion people will be living on earth, 75 percent of them in cities. If we go on at this rate, we will need several extra planets for the production of our food. 'Food for the City' examines how we can keep feeding our cities.

Ever since Carolyn Steel's international bestseller 'Hungry City', food is no longer a subject reserved for experts. The publication 'Food for the City' goes a step further and presents 13 unique visions from across the world on the future of food in the city in the year 2050. In addition, a timeline from 2050 BCE to 2050 CE and a richly varied pictorial essay offer the reader an intriguing look at a subject that may be hip and hot now, but has in fact occupied people for millennia. The chef, the activist, the industrialist, the artist, the philosopher, the architect and the farmer, among others, offer their view of the future of food for the city.

This publication is part of the Foodprint. Food for the City program

Online orders through: : NAi Publishers

Publishers: NAi Publishers | Stroom Den Haag
Made possible with the financial support of: DOEN Foundation, Mondriaan Fund, the Netherlands Architecture Fund
News
Monday, 07 May 2012 13:34
In honour of International Composting Awareness Week (ICAW), which begins today, we remember Marjory the Trash Heap, the wise compost pile from Jim Henson's Fraggle Rock. Marjory 'knows all and sees all. In fact, Marjory is all: "I'm orange peels, I'm coffee grounds, I'm wisdom!"'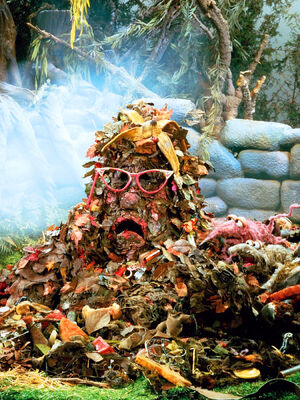 Look at her steaming away! She seems to have a good mix of brown (high carbon) materials such as autumn leaves with the (generally high nitrogen) food scraps, which is essential to a good compost pile.
We believe the lone example of Marjory serves highlight just how few talking compost heaps there are in popular culture. Maybe she could be brought back with her own talk show.

More at muppet.wikia.com and www.compostweek.com.au

Design and Implementation
Friday, 06 April 2012 09:11
A few days back VEG's Simon, Will, & Lynden completed this chicken system including a Veg Standard Chook House, a VEG Custom Strawyard, and two enormous runs. Some lovely gate and hatch details in there - these sorts of things really make a difference in managing the system day-to-day. Now all that's required is some chooks who this time next year will be laying some serious easter eggs!

News
Saturday, 24 March 2012 21:24
A couple of years ago we came into some lovely young pekin bantam chickens who spent several days with us at the Gardening Australia Expo in 2010 -- and were so relaxed about it they laid eggs every day and seemed to love the attention. Since then they've been having a wonderful life at the CERES Permaculture and Bushfoods Nursery in Brunswick East, where they keep the company of Barry, a pekin rooster. And as these things happen, one of them has just become a mother! We took down a VEG chook tractor so she can raise her babies in peace. How cute!!
Update 16 April: Here they are a now, scratching like little champs!
Media Appearances
Thursday, 15 March 2012 08:14
Audio: Adam Grubb on the Grapevine
Monthly guest Adam Grubb from Very Edible Gardens and the Permablitz network chats to Donna and Kulja about lead contamination in Melbourne backyards, issues surrounding food safety, and more on the Grapevine.
---
For the last couple of years Adam has been a monthly guest on The Grapevine on Triple R radio with Donna Morabito and Kulja Coulston. This weeks discussion was prompted by an article in the Sunday Age (and a kind of retraction) about lead contamination at Ceres Environmental Park. (In the past Adam's spot was on the fourth Monday of the month, but that might change.)
UPDATE Mar 16: Read this article by Chris Ennis from CERES about the truth of the matter and some dodgy journalism.
Tune in to The Grapevine each Monday morning from 9am til 12pm on 102.7FM or at www.rrr.org.au.
If you have concerns, check out VEG's Soil Testing services

Design and Implementation
Monday, 12 March 2012 17:05
Today we visited a job VEG's Simon finished up last week. Here's a pic of the design for the backyard, the finished yard, and a closeup of Simon's crazy, crazy paving.

Design and Implementation
Sunday, 11 March 2012 09:47
Yesterday Dan and Adam ran day two of VEG's Two-Day Introduction to Urban Permaculture, which is run on the property of Kim and Clive, VEG's first ever design customers (Kim is now a VEG team member and a much better gardener than us!). We had a lovely day with a great bunch of participants - thanks again to you all for coming along. At the end of the day Dan did a quick walk around - after having completed a late-summer lightening prune (about 12 large deciduous fruit trees in 2 hrs!), hence the carnage (tough love). We love this property, not only because Kim and Clive live there, and because Kim feeds us so well (from the garden), but because after five years the garden is beautiful, and about the most pleasant place we know of in Melbourne to spend a Saturday.

<< Start < Prev

11

12 13 14 15 16 17 18 19 20 Next > End >>


Page 11 of 21